For the 2012 Daytona Beach Industry/Career Expo, Career Services  is teaming up with the support of SGA.  Professional attire is expected if you want to enter the ICI Center floor for the October 10th event.   If you do not meet the minimum standards, you will be asked to leave and come back once dressed appropriately.
Professional attire should include the following:
Both men and women should wear suits that fit appropriately; navy, gray, soft black and other dark colors are most appropriate
The length of a skirt should reach right above, below or to the knee
Gentlemen should wear button down shirts and ties
Ties should complement the suit and shirt color and should be in a conservative pattern and color
Ladies should wear conservative or appropriate suit blouses
Colors for shirts should be muted; white, off-white or light blue are the most recommended colors
Shoes should be polished and professional
Ladies should wear closed-toe shoes; pantyhose are good for the ladies wearing skirt suits
Socks, for both men and women, should match the shoe or pant color
The minimum professional dress allowed is business casual, but you must dress according to the industry standard for the job you are seeking at the Expo.  Business casual entails khaki pants and a collared (polo) shirt for the gentlemen and slacks/skirt and a blouse/sweater for the ladies.  Additional suggestions for the gentlemen can include a navy blazer, slacks or button down shirt without a tie.  Ladies can also wear professional dresses, khaki pants and collared (polo) shirts.
Flight and ROTC uniforms are appropriate Expo dress.  Religious and cultural attire will be accepted.
You will be turned away from the event if you wear any of the following clothing types:
Ripped or torn jeans
Baseball caps or other hats
T-shirts with inappropriate or crude images or wording
Overly revealing clothing of any kind
Shoes inappropriate for a conservative office environment
Mid-thigh length or above skirts
The Career Services Office is enforcing such a code to ensure our students are presenting themselves in the best way possible at this hiring event.  Employers have given consistent feedback that professional dress positively impacts you while inappropriate dress is a detriment to your candidacy for employment.  Please understand the importance of looking professional for any career-related event, both on and off campus.
If you have any questions about what you should wear to the October 10th Industry/Career Expo, visit Career Services, see ideal Expo attire on Pinterest and/or ask your local SGA representative.  There will also be professional dressing events during the fall 2012 semester.
You may also want to review the CareerSpots videos below on professional and business casual attire. PDF handouts are also provided for you below to download.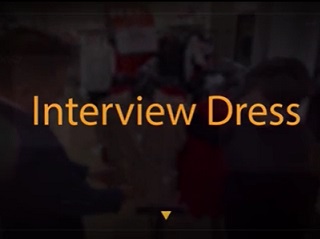 Interview Dress for Women
Download Quick Tips (PDF)
CareerSpots.com ©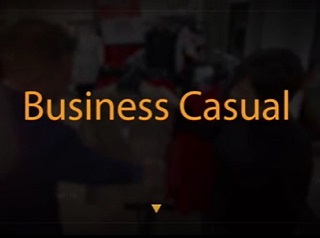 Interview Dress for Men
Download Quick Tips (PDF)
CareerSpots.com ©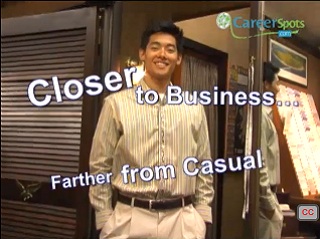 Business Casual
CareerSpots.com ©